Construction drive aids economic recovery
A recruitment campaign which set out to train high-quality assessors for the construction industry in Scotland has played a vital role in economic recovery. 
The two-year project launched back in early 2020 was targeted at experienced tradespeople working in the Construction Sector. It was driven by ESP and the Construction Industry Training Board (CITB), in partnership with Scottish Colleges, government agencies and private training providers. 
Forth Valley College's Communications and Marketing team played a crucial role in the planning and implementation of the overall marketing campaign, working closely with the College Development Marketing Network.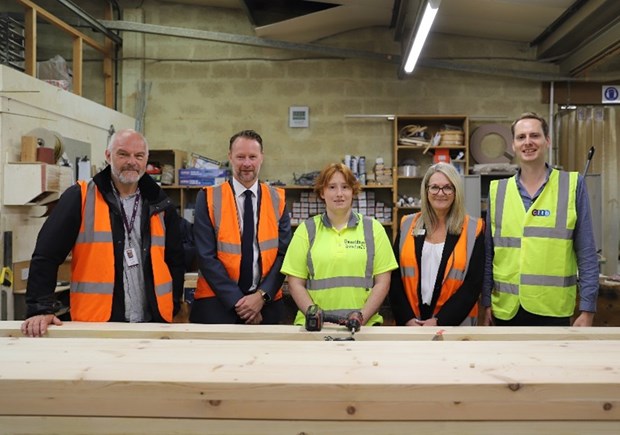 John MacMillan (FVC); John Renwick (ESP); Jade Nelson (FVC); Juliet Mallace (ESP); Nic Tuck (CITB) 
Despite the pandemic, the campaign has been deemed a massive success, with over 120 construction workers stepping forward to help support and train the Industry's future workforce. Individuals have already been matched to Construction Assessor roles across Scotland's colleges. 
The Construction Assessor role has offered a secure and rewarding opportunity for tradespeople with a competitive salary, generous holiday entitlement and benefits package. They are responsible for carrying out a wide range of assessment and verification duties and ensuring apprentices have the skills and knowledge to pass their workplace assessments.
Additionally, 100 Construction Work-Based Assessors have also been able to tap into CPD training. West College Scotland developed a training package to help standardise the assessor role across Scotland. Assessors from 19 colleges across Scotland completed this training.
The final outcome was to develop an e-portfolio on behalf of the sector. It aimed to deliver an intuitive and interactive approach that will allow assessors to store on-site evidence for the assessment and moderation of work. This new approach will save students, assessors, and external verifiers time. It will also enhance and develop their current digital skills whilst aligning to the National Occupational Standards.
John Renwick from ESP said: "This project has highlighted the benefits of collaborating on a national project. We look forward to continuing our relationship with CITB delivering on the skills and training required to ensure the future workforce is fit to meet the needs of Industry."
CITB's Engagement Director Scotland, Ian Hughes said: "The project has been a real success seeing 100 construction workers upskill on this course to become assessors. The need for assessors continues to be a priority in construction and for CITB. With the help and support of projects such as this one can only serve to benefit Industry and continue to meet the skills need and further individual's career paths."
Return to top