Construction "Quad" supported by CITB lands jobs for 90% of students
A school-based training facility which linked local people to employers who were struggling to recruit skilled workers scored top marks for delivery.

Back in 2020, a report published by CITB highlighted the need to address the skills gap in the construction industry, as employers experience difficulties in recruiting both entry level and skilled workers.

In light of these findings, CITB formed a partnership with Morgan Sindall Construction, Bucks College Group, and the ABC Assessment Centre to secure on-site training during August and July 2021, for individuals looking for a career in construction.

CITB worked together with the ABC Assessment Centre and Bucks College Group to fund courses in occupations at great risk of a shortfall in numbers available locally, such as brick layering and dry lining.

More than 4,000 people took part in CITB's working taster sessions, workshops, and school visits and over 130 hours of employability workshops were offered to individuals training at the Quad.

The "Quad" was based at Kingsbrook Secondary School, part of a £35m development by Morgan Sindall Construction (MSC). It linked learners to jobs and saw:
Over £2 million spent with the local supply chain
Approximately 900 hours provided to students for lectures and work experience
23 NVQs obtained by students
Four professional development qualifications and accreditations awarded.
We spoke to Norma Odain-Hines, Social Value Manager at Morgan Sindall Construction, to learn more about this collaborative project which ran in July and August 2021.
Community
"The impact the Knowledge Quad has had in our business is huge," says Norma.

"During the summer when the colleges are closed, we hosted our 5-day intensive training session, part of our Site Managers Toolkit. This was a practical experience for our early careers staff with different trades.

"In addition, we also engaged with the wider community in Aylesbury alongside identifying and addressing the lack of skilled bricklayers in the area".

MSC had previously launched a Knowledge Quad in Liverpool in 2020.

This partnership not only offered bespoke training to local people, it also offered a chance for students to accomplish personal milestones.
During 2021, an apprentice at the Knowledge Quad could benefit both from onsite experience and attending lectures (over 900 hours of lectures were delivered).
"Winning this Southern Construction Framework project and having the Knowledge Quad embedded on a live site allowed us to do a lot of on-site work experience," says Norma.

"We had two candidates on this project, and it made a huge difference to their lives; for them being able to work and see the value they brought to industry changed their mindsets to "I know I can do this".
Employment
"The training at Kingsbrook secondary school site was amazing," says Jamie Cremin, who completed his Level 2 in Bricklaying at the Quad.

"I am incredibly grateful for being given the opportunity as it gave me a great insight as to what work on site is like and what is to be expected of me.

"The training gave me a greater idea of what goes on in all areas. It has helped to give me confidence in the tasks at hand in my apprenticeship today."

In addition to providing onsite experience the Quad helped to sustain growth in the community.

"Training opportunities for local residents helped growth in this area and established a circular economy," says Norma.

"Skills and training given to the residents came back to businesses and employers and benefited the local area."
Effective
"The 'Knowledge Quad' is a good example of addressing construction skills demand at a local level," says CITB Engagement Adviser Sarah Peace.

"This is a key part of CITB's Business Plan which was published in May.

"Seeing such a high percentage of students find construction jobs in their locality is what effective training is all about.

"This project catered for theory - and site experience - to ensure students were work-ready when they started their jobs.
"I'd like to congratulate everyone involved in the project. I hope the students who trained at the 'Knowledge Quad' enjoy fulfilling construction careers and that the project inspires other businesses and learning providers."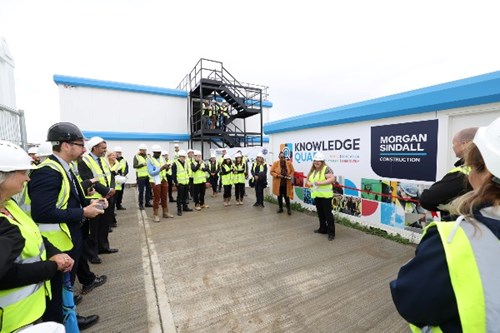 Image courtesy of Morgan Sindall Construction
Snapshot
Company: Morgan Sindall Group

Sector: Construction

Challenge: To address construction skills demand in the community by upskilling individuals.

Solution: A partnership - delivered by Buckinghamshire County Council with CITB, Bucks College Group and the ABC Assessment Centre - which created a multi-purpose training and learning facility in Aylesbury.

Impact: 90% of its attendees secured a job in construction. Overall, the Quad created a bridge into employment, improved residents' employability and offered high-quality, onsite training.
Return to top