Groundworks Appreciation Week: Celebrating the unsung heroes of construction
They're usually the first and last on site – but groundworkers remain the unsung heroes of the construction industry.

So the Construction Industry Training Board (CITB) has teamed up with training provider AccXel for Groundworks Appreciation Week, from 27 March.

During the week, groundworkers, apprentices and their employers are being asked to share their experiences by posting photos or videos to help challenge perceptions of their career and industry, using the #GroundworksWeek hashtag.

Groundworker apprentice Bogdan Olteanu is joining the campaign to teach others about the diverse nature of the job.

Bogdan is currently doing his level two groundworker apprenticeship and has been with Bedfordshire-based groundwork and civil engineering contractors Aden Contracting Ltd since January 2022. In just over a year, Bogdan has proved to be an integral part of the team; working closely with his colleagues, representing the company at events and completing vital training courses all while attending college weekly. He is bringing immense value to Aden through his talent and ambition.

"I've chosen to do an apprenticeship as it's a fantastic opportunity to gain the right skills and experience as a groundworker, plus you get paid and learn from the best people about.

"Working for Aden allows me to learn from the most experienced people on site, they help me develop my skills as a groundworker. I like that everyone explains everything when you ask for help or are unsure about few things.

"Aden supports me by providing training that enables me to improve my skills and my understanding about the jobs I do. Having such supportive staff on site and in the office who are always there to help with anything, just makes the whole apprenticeship a better experience.

"My advice to others looking to do an apprenticeship would be look for an apprenticeship in the trade / occupation you like and stick to it, if you get an apprenticeship, be confident when talking to a designated employer / person. Life after an apprenticeship sets you up for a good future and a good experience."

CITB groundworks tutor Tim Heads said: "Groundwork can vary massively. I don't think that anyone can be fully skilled in all aspects of groundworks because the subject is diverse. Even at 58 years old, I am constantly learning as new technologies, processes and materials are brought into the industry.

"However, to confidently understand the basics I would say 18 months to two years then further time regarding specific elements such as concrete finishing, modular paving, drainage and ductwork, deep excavation etc.

"Working outside is not for everyone, but the satisfaction of creating something with your hands is very rewarding. You don't know if you are suited to a job until you try it."

Natalie King, Operations Director of AccXel, said: "Groundworkers are a fundamental part of construction. However, not nearly enough people know or fully understand what this role entails.

"They are also the most in-demand trade as they are needed for every construction project.

"We want to inspire more people to join construction in this role, and that will only happen if there is better understanding and visibility of this role.

"This why we have created Groundworks Appreciation Week alongside CITB and Go Construct – to do precisely that."

If you want to find out more about being a groundworker, visit Go Construct.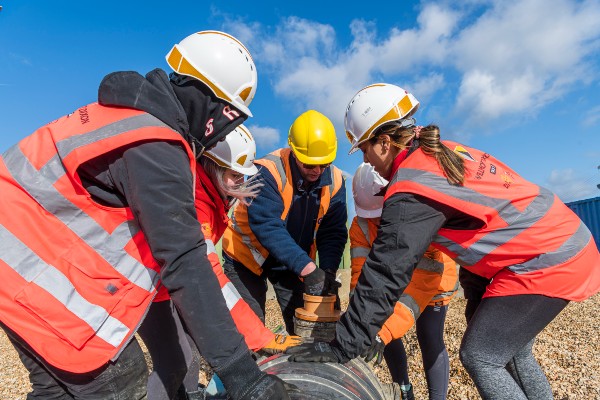 Return to top