Scottish construction apprenticeships come out on top, despite pandemic challenges
Figures recently released by Skills Development Scotland (SDS) indicate construction apprenticeships have bounced back from the pandemic, stronger than ever.
The Modern Apprenticeship Statistics report reveals that the number of Construction and Related Modern Apprentices (MAs) in training for the end of quarter 3 2021-22 was 12,814, which is 254 more apprentices than in 2019-20 and account for 32% of the 34,000 apprentices in Scotland. Construction is also the first sector to return to pre-pandemic levels.
A few factors will have contributed to the thriving numbers, including the Apprenticeship Employer Grant of £5,000, which was launched by the Scottish Government and SDS back in 2020-21. CITB MAs were the largest beneficiary of this grant support with 500 apprentices recruited within six weeks of the launch. Additionally, those employers were supported by approximately £1.25m in CITB attendance grants. To date, there are 4,500 apprentices in Scotland with Levy-registered employers, who benefit from just over £90m in direct and indirect grants from CITB and SDS.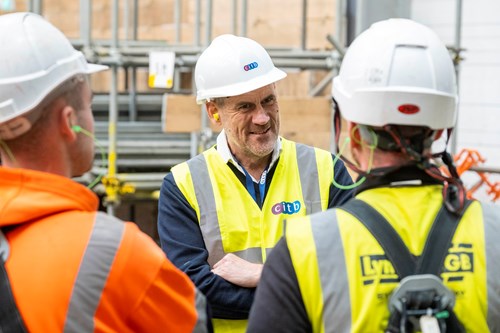 The positive news comes at a crucial time when the demand for more workers in construction is particularly high, with an additional 26,300 workers required in Scotland by 2025. CITB's recent Rethinking Recruitment report also highlights the need to widen the talent pool and bring in the new perspectives required to fill the skills gap. This places greater emphasis on apprenticeships as one way the construction industry can secure a pipeline of future talent.
With much of the industry relying on word-of-mouth methods to recruit, it can be difficult to reach a more diverse range of applicants. Looking ahead, CITB is keen to support employers in this space, helping them create a more inclusive workplace, where industry can benefit from the wide range of skills and traits.
To celebrate the return of construction and set out his aims for Scotland amidst Scottish Apprenticeship Week, Tim Balcon, CITB Chief Executive, has been meeting with employers and NCC apprentices in Scotland this week, and will be visiting the Edinburgh Futures Institute today (10 March). The refurbishment and extension project being undertaken by Balfour Beatty, utilises Building Information Modelling (BIM) and augmented and virtual reality technologies to enhance the restoration process of the building. The site has supported the training of more than 40 apprentices over the course of its life cycle.
Tim Balcon, CITB Chief Executive, said: "The recent figures reported by Skills Development Scotland are extremely encouraging for industry. Despite the challenges faced over the last two years, for Scotland to come out on top as both the first nation and sector to return to pre-pandemic levels is an amazing achievement to be proud of.
"Now is the time to be supporting and nurturing new entrants and apprenticeships play a pivotal role in doing this. I'm excited to see the vast array of talent we have in Scotland, and to discuss further ways we can support employers to continue the great work, moving forwards."
Skills Development Scotland Chair and Scottish Apprenticeship Advisory Board Co-Chair, Frank Mitchell, said: "When it comes to supporting sustainable skills through workforce development or providing opportunities for young people, we know that apprenticeships work.
"The combination of commitment from employers and the backing of Scottish Government will ensure apprenticeships work for everyone, making a significant contributor to Scotland's recovery and productivity growth."
Return to top