Setting Out For Construction launches new CITB assured drone courses with RJT Excavations and Borders College
Two new courses have been launched by one of the UK's leading setting out training companies to help proliferate drone use in the construction industry. Setting Out For Construction worked with Scotia Survey and Safety and consulted with industry stakeholders and technology providers, including Topcon and Leica, to develop the training standard and gain approval as a CITB assured product.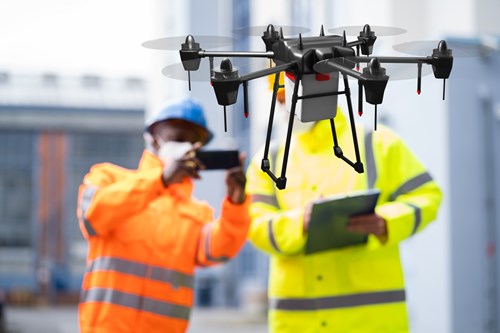 RJT Excavations, based in Jedburgh, undertook the training so they could use drone technology to help them improve efficiency, quality, safety and environmental performance.
Gary Garner, Senior Site Engineer, said: "We invested in the drone equipment over a year ago, but like many companies, we couldn't find training which recognised the construction specific nature of our needs. This training has been perfect for us. A range of personnel, from senior managers to our youngest apprentice, aged 18, took part in the training.
"We want this to become part of our normal way of working and build it into everything we do, from topographical surveys and carrying out inspections, to accurate, real-time weekly measures and progress reporting. Using drones will mean we'll be able to quickly and efficiently gather data which will help our communication with our clients and subcontractors, ensure site security and most importantly, will mean we don't need to put our engineers in danger by having them working around live plant to take surveys."
RJT received funding for 100% of the costs of this training through the Scottish Government's Flexible Workforce Development Fund.
Susan Rennie, Accounts Manager (Commercial Short Courses and VQ Delivery) at Borders College said: "This shows how flexible this fund really is. Even though we don't offer this kind of training ourselves, we were able to ensure that the employer could get training which meets their specific needs through a specialist training provider with a proven track record for quality. The feedback has been fantastic and we're hoping that many more construction companies in the borders will follow the example of upskilling their site staff in this type of technology."
The two courses take a day each to complete. Drone Use in Construction - Introduction is a classroom course aimed at anyone who would like to understand how drones can be used in a construction environment, as well as what is involved in carrying out a drone survey and preparing the deliverables. Drone Use in Construction - Intermediate is a practical course covering planning a project, executing the project on site, carrying out a flight and processing the data.
Additionally, both courses are eligible for CITB grant, enabling  CITB-registered employers with fewer than 250 employees  to apply for the full costs through the CITB Skills and Training fund.
The technical development of the courses was led by Filippos Ntagadkis, Director of Scotia Survey and Safety. Filippos said: "Use of this technology isn't widespread yet because people don't realise how easy drones are to use and how low cost they are. Yes, you can buy drones for tens of thousands of pounds, but you could also pick up one second hand for £250 which is perfectly suitable for use on a typical construction site. With a basic drone, you could complete a survey in an hour that would take a week using conventional surveying methods, and that includes processing the data and creating drawings. It only takes a couple of days of training to upskill a Site Engineer."
Saffron Grant, Founder and Director of Setting Out For Construction and its sister company Digital Construction Skills, said: "We are privileged to be working with Filippos on this project. He is renowned in the construction industry for his exceptional technical expertise and his desire to educate the industry about these vital value adding technologies."
Following the extremely successful launch with RJT Excavations, open courses will be running on the 8 & 10 March in Glasgow. Bookings can be made via Setting Out For Construction.
Return to top